WHAT'S ON WXEL SOUTH FLORIDA PBS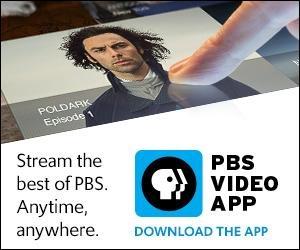 PBS Video App
Watch your favorite shows anytime, anywhere!
NOVEMBER PROGRAM GUIDE
Featured This Month
Great Performances continus its commitmnet of bringing you unparalleled acces to some of the nation's most exciting and critically acclaimed theater offerings on South Florida PBS on Friday nights. This month enjoy 42 Street, Rogers and Hammerstein's The Kind and I, Red, Much Ado About Nothng and Kinky Boots!
What the durrells did next
Tuesday, November 19 at 8 PM
Learn the true story behind one of the best-loved families in TV drama.
Sesame Street's 50th Anniversary Celebration
Thursday, November 21 at 8 PM
Sesame Street's ready for its 50th anniversary celebration with host Joseph Gordon Levitt.
Great Performances | Much Ado About Nothing
Saturday, November 23 at 9:30 PM
The bold interpretation of Shakespeare's comedic masterpiece featuring Danielle Brooks.
Poldark
Episode 6
Geoffrey Charles makes a desperate plan. Ross pleads for Dwight's help before Ned's trial.
Great Performances
Rodgers & Hammerstein's The King and I
Kelli O'Hara and Ken Watanabe star in "Roger & Hammerstein's The King and I."
Nature
Okavango: River of Dreams - Episode 3: Inferno
Discover the Lower Okavango River, where the land is baked dry by the Kalahari Desert sun.
Nature
Octopus: Making Contact
The octopus is the closest we may get to meeting an alien.
Great Performances
Now Hear This "Handel: Italian Style"
Scott Yoo returns to Italy to follow in Handel's footsteps.
Wild Metropolis
Residents
Discover the extraordinary ways wildlife is making itself at home in the world's cities.
SOUTH FLORIDA PBS ORIGINALS
Between The Covers
David Lawrence Jr.
Between The Covers welcomes author David Lawrence Jr.!
Your South Florida
Saving Our Female Veterans | Your South Florida
Florida is home to the second largest population of female veterans in the U.S.
Star Gazers
The Disappearing Dipper | Nov 11th - Nov 17th | 5 Mins
Star Gazers #19-45 5 minute Nov 11th - Nov 17th, 2019 "The Disappearing Dipper!"