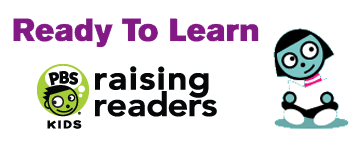 PBS Ready To Learn is public television's contribution toward our nation's most urgent educational goal—ensuring that all children begin school ready to learn. The core of Ready To Learn is a full day of non-violent, commercial-free, educational children's television programming broadcast on WXEL TV 42 free of charge to every American household. This daily broadcast includes some of the most popular, award-winning and engaging programming available today—Arthur, Dragon Tales, Clifford, Between the Lions, Reading Rainbow, Maya & Miguel, SUPER WHY, A Place of Our Own and Sesame Street. Ready To Learn also provides extensive outreach services to parents, child care providers and other early childhood educator.
The Ready To Learn Initiative

Kids love to learn. PBS KIDS Raising Readers is a national literacy campaign, and part of the Ready To Learn initiative, focused on building reading skills at home, at school, in child care, and in the community.

Funded by a Ready To Learn grant from the United States Department of Education, the Ready To Learn initiative is developing engaging PBS KIDS Raising Readers television programs, exciting games, playful Web sites, and easy-to-use learning resources for kids, parents, caregivers, and teachers—all with the goal of helping children ages 2 to 8 get ready to read.

All Ready To Learn initiative efforts incorporate the latest research about the most effective ways for kids to build reading skills, with a special emphasis on the needs of children from low income families. The Ready To Learn initiative is a cooperative agreement of theU.S. Department of Education, the Corporation for Public Broadcasting (CPB),PBS, and the Ready To Learn Partnership (RTLP). PBS member public television stations nationwide are important partners in the Ready To Learn initiative.

Between the Lions, Sesame Street, SUPER WHY andWordWorld continue to be part of the PBS KIDS Raising Readers programming, and fun new shows are on the way!
About the Grant

Past Ready To Learn initiative grants from the U.S. Department of Education have funded some of the country's most effective and beloved children's educational television programming. Ready To Learn initiative programs have helped young children build the cognitive, problem solving, and social/emotional skills they need for school success.

Today's Ready To Learn initiative funding is focused heavily on developing programs and resources that help young children build strong pre-reading and reading skills, using scientifically-based reading research (SBRR) to guide teaching strategies. Other current Ready To Learn initiative priorities include:

• Testing new ways for kids and parents to view programs—for example, on the Internet, or with handheld devices, mobile phone, and other emerging technologies
• Exploring new ways to ensure that children from all socio-economic levels have the resources they need to learn how to read
• Evaluating rigorously the outcomes of children's exposure to television programming and other content to learn what works

Current Ready To Learn initiative grantees are PBS in partnership with the Corporation for Public Broadcasting and the Ready to Learn Partnership. Fun, engaging, innovative, and motivating productions in development include the soon-to-be-unveiled Martha Speaks and an updated version of The Electric Company.
For more information about the Ready To Learn Initiative
and PBS KIDS raising readers,
please click here.